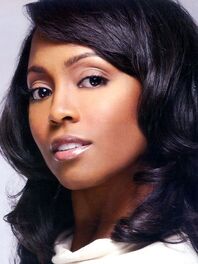 Miranda Payne is portrayed by Keisha Knight Pulliam. She plays a constantly working mother who complains about her needs only. Miranda was once a con artist and had used Calvin for his money. But later in the series, she gave up her old ways and had fallen in love with Calvin. She and Calvin married in the season for conclusion in a joint-wedding with C.J and Janine. Many of Calvin and Miranda's problems began in season 5 and escalated through season 6, when she was thought to have a baby but revealed to Calvin that were was no baby after she returned from disappearances. In season 7, Miranda had Calvin's son Christian, and raises him along with Calvin Jr, his stepmother. She is the mother of Christian and the stepmother of Calvin Jr. In the series finale, Miranda asked Calvin for a divorce after attempting to celebrate the wedding anniversary with Janine, Calvin, C.J,and Curtis.
Also when Miranda divorced with Calvin she didn't tell why.
Antagonist sides
Edit
She went into Calvin's house and threw the towel on the floor and didn't even pick it up.
She went into Floyd's barbershop and was gonna tear down the barbershop
she tells everybody what to do
She bosses everybody around.
she wouldn't let Calvin's friends hang out with them
She yelled at Ella
She disrespected Ella
She talk back to Ella.
She steps out on Calvin
She stood Calvin up.
Appearance
Edit
== Miranda is a American woman who is small in stature with curves and slender eyes and a pointed nose and full lips. Her eyes are large and are a dark brown. Her hair is black and is usually wavy, but in some episodes her hair is straightened. She always has her toes done, and has some sexy feet.
an A ==