Janine Payne
Talk

0
22pages on
this wiki
Janine Payne
[[|250px]]


Family

Clarence James (C.J.) Payne (Husband)

Malik Payne (Son)

Jazmine Payne (Daughter)

Ella Payne (Aunt)

Curtis Payne (Uncle)

Calvin Payne (Cousin)

Relationship

Clarence James (C.J.) Payne (Husband)

Job

Assistant to Firefighter Chief
 Janine is the mother of Malik, Jazmine Jayden, and Hayden Payne and wife of CJ Payne. She is also the niece-in-law to Ella and Curtis Payne, the cousin-in-law to Calvin, and the mother to Malik, Jazmine, Hayden and Jayden.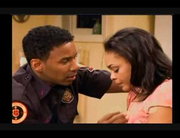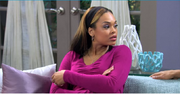 Janine Payne (née Janine Shelton) (Demetria McKinney), is C.J.'s wife and the mother of Malik, Jazmine, Jayden, and Hayden Payne. A seemingly responsible adult and mother at the series' very beginning, she is later revealed to be a drug addict and the arsonist who burned down her and C.J.'s home. She and C.J. divorce after she leaves her family. Initially, she was only a recurring character and was rarely seen in the series except in episodes where she associates with Ella Payne, who helps her enter a rehab program and return to the family. Later in the series, she is often criticized by C.J., Curtis, and Malik for her irresponsible actions. She is apparently impregnated by her boyfriend, until an episode reveals that he's sterile. Since C.J. is the only other person she has had intercourse with (in an earlier episode, where they were intimate when C.J. was drunk), she realizes that C.J. is the father of the coming child. C.J. and Janine remarry at Calvin and Miranda's wedding; almost immediately her water breaks and she gives birth to twins Jayden and Hayden Payne. Janine's parents are Larry and Liz Shelton. She and C.J. now live in their own home with their four children. In seasons 6-7, her role in the series has grown more central as she focuses more on her career than her home life—and becomes the target of romantic interest from her boss Roland until C.J. gets promoted to commissioner and becomes both Janine and Roland's boss and makes them keep their relationship professional. From that point on, C.J. and Janine both have the same job together and are able focus on both their career and home life together.
(Infrequently in first two seasons)
.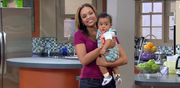 Appearance
Edit
Janine is African-American light skinned woman. With long black hair (later dyed black and blonde). She wears makeup mostly eyeshadow. She is slender also. She has brown eyes.